By FPFK Media Team:
There were joy, dancing, singing, and celebrations at Karen Christian College on May 27, 2022 . This was after delegates elected four women to the top leadership level as members.
The four are Alice Apiyo, Christine Auma, Margaret Karanja, and Anne Wanjiru.
Also, one more woman Pauline Kosgey was elected as National Trustee Member.
This brought to five, the total number of women in the top leadership.
This is thanks to the Church's 2018 Constitution, which required the following leadership elections to consider the two-third gender rule, and the FPFK Elections Board led by its chairman Rev. Gabriel Riamet was keen to see that is adhered to.
For a long time, women have not been considered in the top leadership elections until the Church's 2018 Constitution.
This now means that the church has met the two-thirds gender rule as per the Kenyan 2010 Constitution that requires institutional or organisational leadership to meet that gender rule.
More celebration was witnessed when Bishop Joseph Munialo of FPFK Kipsongo(Kitale) and Rev. John Kitur were announced after being as the new Presiding Bishop and General Secretary respectively.
The above two take over from outgoing Presiding Bishop David Kiragu, who has opted to retire as Kitur replaces Bishop Walter Andhoga, who did not recapture the seat.
History was also repeated as the outgoing GS returned the mantle back to Rev. Kitur, who also handed it over to him in 2013.
Bishop Munialo will be deputised by FPFK Mpeketoni's Damson Kamau while Kitur's will FPFK Kericho Town Church's Rev. Gideon Yegon.
Rev. Damson takes over from the late Bishop Gabriel Ouma, who died in June 2021 while Rev. Yegon replaces Pastor David Musumba.
The new Treasurer will be Adam Turere, assisted by John Osimbo.
The new nine National Trustees will be Stephen Kiarie, John Kibe, Pauline Kosgey, George Ojwang, Andrew Ogembo, Jacob Taga, Charles Njoroge, David Momanyi, and Timon Charles.
The peaceful elections that saw an overhaul of all the former leadership happened on the second day after a 2021 Annual General Meeting(AGM) that happened on Thursday 26.
The former leadership has been in office for two consecutive terms of four years each.
Speaking after the elections, National Women Ministry Chairlady Pastor Emily Mayiani welcomed the election of the five, saying it's a great achievement for the women's ministry and the entire church.
"It will go into the history books of FPFK that on May 27, 2022, women were elected in the National Board. This board consists of 10 members and they have all been men. Today, we celebrate the doing of the Lord and we are ready to serve God. FPFK will never remain the same again," she said.
Mayiani added: "The FPFK Constitution was changed in 2018, which has helped us achieve this goal. We appreciate all those who were involved in this. The voting process is not an easy one but today we are grateful that men can vote in women so that we may serve together."
Our development partner PMU, which is Swedish Pentecostal Churches' aid organization, also welcomed the election of four women.
''PMU congratulates FPFK to a well-accomplished AGM. I am particularly happy that you now have four women on the National Board," said Jonas Fallsten, PMU Regional Coordinator.
Men Ministry National Chairman Pastor Francis Mutuku also congratulated women for their achievement.
"Men in FPFK as a Church, want to be first among equals by living according to the letter of Apostle Paul to the Ephesians, that men should love their wives," said Pastor Mutuku.
He added: "According to this text, the love of men for their wives should be as much practical as possible. As shown by yesterday's election, men in FPFK have no problem in allowing their wives to excel in their specific areas of ministries and servanthood."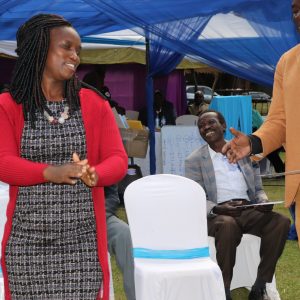 Speaking after being declared the new Presiding Bishop, Bishop Munialo said it's time for the church to stop relying on offerings and tithes to spread the gospel.
''Remember what happened during Covid-19 times, that one taught us a lesson that we have to change and have an investment somewhere, that will supplement spreading the gospel,'' he said.
Bishop Munialo, who asked for prayers from the church, promised to be a servant and not just a leader or Boss.
''I want to serve you and not be your leader or boss. I want to serve you and be concerned with your welfare more than mine. I will open my ears to listen to your positive advice,'' said Bishop Munialo, who promised to unite the church members including those who lost the elections.
Outgoing General Secretary Bishop Dr. Andhoga during his welcoming speech lauded the delegates for the peaceful elections, congratulated the new leadership and wished them God's blessings.
He asked the outgoing team to greet the new team as a sign of solidary and wish them God's blessings.
Bishop Andhoga told the new leadership that the work ahead of them is tough and asked delegates to give them the utmost support they need.
He also asked those who lost the elections not to be grieved, saying the national leadership has only ten positions that all of them cannot fill.
''Maybe you were grieved because you were contesting and you did not get it. We only have 10 positions and all of us cannot take them. We know that they are going to work on our behalf. I want to ask you not take this issue to your heart. There is always a season and time for another time and that should not block you from supporting the new team. Pray for them because if they succeed, all of us will have succeeded and vice versa,'' said Bishop Andhoga.
Outgoing Presiding Bishop Kiragu told the new leadership that there is no money in the accounts and that its only God who will help them, and give them wisdom even as the church prayed for them.
''Most of all, continue to send the 15 percent to Head Office so that we stop depending on donors from abroad. I know our church is able. What we need is to have unity because if we had it initially, even this Kindaruma Guest House that is lacking about Sh200 million to be complete would have been finished,'' said Bishop Kiragu.
He challenged the new leadership to think of investing in buying a big tent that can cost about Sh3 million to Sh4 million, which he said is not a big issue for the church.
''If bought, it will help us avoid hiring every time we have such big events in future,'' he said.
The new General Secretary Rev. Kitur thanked delegates for electing him,  promised them and the church that together with the board, will serve them faithfully.
''We want to promise you that I and my board will serve you faithfully. We will have a heart for you, an eye to see you and an ear to listen to you,'' said Rev. Kitur.
He thanked the previous Board for the great work and promised to reach to them for prayers and consultation often.
Rev Kitur called upon the church to remain united even after  elections, considering some aspirants lost the highly competitive elections.
''From now on, let us walk together as a team. Let us be our brothers and sisters keepers, we want to grow together as a church. Remember we are not just an organisation but also an organism and we must grow our church to another level,'' he added.
He said the board will not promise the church big things but said God who has given us the church favour and grace will also take us together as FPFK to another level.
''I believe in Him and God is not limited. He will give us resources, make us grow spiritually, numerically and I strongly believe this church will be a vibrant church in the next few years,'' he said, appreciating that having women in the board is a great advantage.
He  assured them that they will never be intimated, but have a voice and opportunity to be heard.
The new GS also thanked the partners from Sweden and Norway and other organisations for their support this far.
New Treasurer Adam Turere promised to fight corruption in the church, which he said it's his biggest enemy, adding that anyone who will practice it will be shown the door.
''I want to assure delegates and the church and delegates that your funds will be in safe hands and ethics will be at the top most. Number one exercise that we might have to undertake  especially from the treasury is to do an audit  to know where we are and what has been done so that we know where to start, '' said Turere, who appreciated maturity in the elections and prayed that it continues like that going forward.
He said they are not coming to the office to be officers but to serve.
''We will be coming to the churches to speak with Bishops, Reverends and Pastors to understand their dreams concerning this organisation,'' said Turere.