Environment, Water & Health
Environment, Water & Health
Climate change is a global phenomenon that is here with us. FPFK church implements Environment project funded by PMU-Interlife. The project which targets Nandi Escarpment and Nyando Basin seek to serve God and humanity through climate change intervention. The Environment project facilitates clean environment, safe water, and healthy communities. The church undertakes community sensitization on issues of waste management and hygiene. It also supports the community with access to safe drinking water by drilling boreholes, in Turkana training people on roof catchments and other water harvesting techniques i.e. constructing water reservoirs / dams.
In general, all FPFK Environmental projects works towards improving forest cover, water harvesting, efficient solid and liquid waste management and general environmental conservation.
On the hand FPFK Implements health related projects; In Taita taveta, Nairobi, Kwale, Machakos and Homabay counties the church implemented a Youth HIV/AIDs Project funded by PMU- Interlife that focused on preventive health methods targeting general youths and in special focus on youths who are physically challenged. The project emphasized on disclosure of status among the youths with a view of reducing spread of HIV and stigma.
In nyambare Siaya County, FPFK church is also implementing a Norwegian Pentecostal Mission (NPM) widow's project that aims at increasing knowledge and skills for self-advocacy towards their freedom from harmful cultural practices.
Strategically the Church is looking forward in improving access to sexual and reproductive health/ HIV services for people in communities, Strengthen capacity for communities to address the effects of HIV /FGM within communities and work on improving knowledge of human rights for young girls and PLWHA and the community.
FPFK invested in solid waste management in Narok where 84 waste bins were installed in and around Narok town. More than 140,000 people were sensitized through radio on proper waste disposal. FPFK worked closely with the county government of Narok. In addition, 16 youth and women groups were formed, trained on environmental protection, management and conservation. This led to increased community awareness towards environmental protection, management and conservation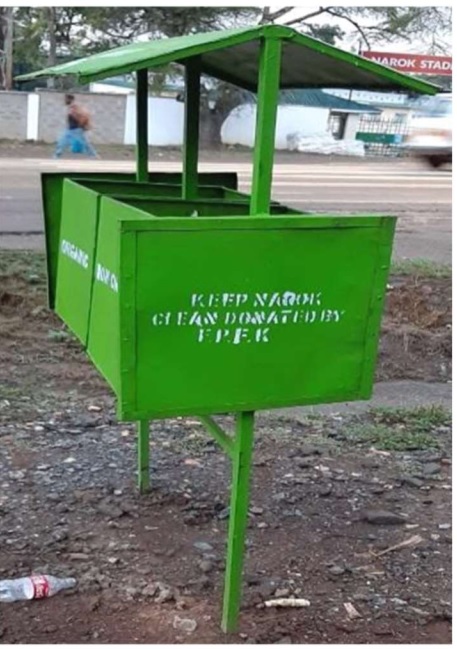 FPFK Kindaruma Guest House (Nairobi)